2022 EFFORTS – FORTE CULTURA  – UKRAINE TWINNING PROGRAMME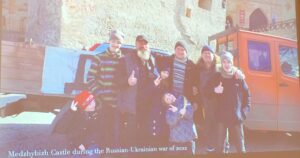 NO TO WAR ! STOP the attack on people and heritage.
EFFORTS and its member FORTE CULTURA adopted at the FORTE CULTURA 2022 April Terezin Conference a Declaration against the war of aggression against Ukraine and its people.  Our EU Member States and cities are doing alot.  However, at the request of its member sites, EFFORTS, together with FORTE CULTURA are helping its members to connect at their level with Ukrainian fortified heritage cities and sites.
Do you as an EFFORTS / FORTE CULTURA site want to join this Cooperation,  partner with a Ukrainian site? The cooperation is focused around a Twinning Programme: go through the presentation and first results hereby (we presented the Programme on 21 April online), learn in the second presentation on fortified heritage in Ukraine,  and if you have questions or want us to help you find a partner site: send a mail to info@efforts-europe.eu.
#standbyukraine #weareefforts
–2022 04 21 EFFC_Ukraine Presentation and First Results since
Information on Ukraine fortifications:
–Bastioned fortified sites Ukraine, presentation by Olha Tikhonova
Meet Forte Cultura member / EFFORTS partner : Medzybizh fortress in Ukraine (see also photo), twinned with EFFORTS / Forte Cultura member Kostrzyn (PL) :
https://www.youtube.com/watch?v=v7RnGNoXi9s
Join us in the Europa Nostra Ukrainian heritage crowdfunding campaign: 
europanostra.org/europa-nostra-and-global-heritage-fund-joint-crowdfunding-campaign
OTHER EVENTS : 
2022 04 06 to 07 FORTE CULTURA TEREZIN CONFERENCE, (CZ)
2022 01 : 2021 EFFORTS Congress in Brussels (online)
2021 10 14  EFFORTS workshop EU Week of the Regions and Cities, on Citizens and Youth participation in fortified heritage, with EU Urban Agenda project 'Culture and Cultural Heritage'
2021 07 07 EFFORTS workshop on Fortification Heritage Impact Study, Hellevoetsluis (NL)
2021 Interreg project FORTITUDE – EFFORTS : External expert exchange for capacity building in tourism-oriented cultural management (Croatia, Montenegro, Bosnia-Hercegovina)
2021 Interreg project 'Recapture the Fortress Cities' – EFFORTS, Simon Stevin VVC
2021 05 06 Program-Workshop European Fortfified Heritage, Pula (DE)
2020 : EFFORTS Congress in Oudenaarde (BE) – see 'latest congress' under 'events' on this site
2020 Message on Covid-crisis by the EFFORTS president Frank Petter, Mayor of Bergen op Zoom
2019: EFFORTS Congress in Antwerp (BE)
2019: EFFORTS – Oost Gelre international conference on heritage cooperation (NL)
2019: EFFORTS European Funding Professionals Network workshop EU Week of the Regions and Cities, on heritage storytelling
2019 : Royal visit to EFFORTS member Fort Meagher, Cork County (IE)
2019: EFFORTS European Funding Professionals Network workshop Olst-Wijhe on EU funding (NL)
2019: EFFORTS International Fortress Council meeting
2019: Wellington Barrier conference (with EFFORTS, Simon Stevin VVC – BE, Menno van Coehoornstichting, NL) 
2018: EFFORTS at Architects Council of Europe (ACE)
2018: EFFORTS at Dubrovnik Conference (HR)
2017: EFFORTS Berlin Congress (DE)
2017: EFFORTS Congress in Venice (IT)
2017: AT FORT 2014 EFFORTS position paper