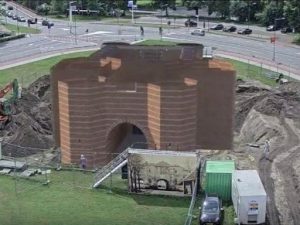 The presentations of the  'Digital Heritage – Big data from the past' conference in 's Hertogenbosch are consultable (in Dutch) on https://www.erfgoedshertogenbosch.nl/dataweek
The EFFORTS Workshop on 'Unlocking the past for sustainable urban development' with the presentation of TIME MACHINE EUROPE of 14 October could not be organised as planned in Brussels at the EU Week of Cities and Regions and was taken up in the 's Hertogenbosch DATA WEEK conference on Digital Heritage of 28 October, partnering with EFFORTS. EFFORTS co-signed the Letter of Intent, concluding the conference.
EFFORTS 'travel partner' in the Den Bosch Time Machine
During the Den Bosch Data Week, the starting signal of the 'Den Bosch Time Machine' sounded on Wednesday afternoon, October 28. This time machine digitally brings 800 years of local history to life. After the go-ahead followed the entry into the European network Time Machine Europe and the signing of the Network Digital Heritage manifesto by the municipal Heritage Department.
Navigating through space and time
Alderman and EFFORTS board member Huib van Olden signed a letter of intent with five organizations to work on the Time Machine in the coming years. He calls it "a dream for anyone interested in the past of 's-Hertogenbosch. From researchers and policymakers to the creative, educational and tourism sectors – everyone can get a wealth of information here. It is, as it were, a Google Earth and Facebook for the past. Personal networks from the Middle Ages are visible again and you can navigate effortlessly through the historic city in space and time."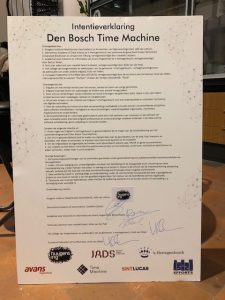 The project is coordinated by the Heritage department of the municipality of 's-Hertogenbosch in collaboration with Huygens Institute for Dutch History, Jheronimus Academy of Data Science (JADS), SintLucas Creative School, Avans University of Applied Sciences and the European network on military heritage EFFORTS.
Big data from the past
Dieke Wesselingh, head of Heritage department explains: "Together with the participating organizations, we connect all digital data about the history of the city, its inhabitants and visitors, and link it to maps and 3D models." Techniques such as artificial intelligence and automatic handwriting recognition are used to analyse and interpret the big data from the past.
It concerns many types of data such as inventory descriptions, construction drawings, population registers and archaeological data. Medieval manuscripts, historical objects, images, audio fragments, paintings and personal stories can also be used.
Source of inspiration
Connecting big data from the past allows us to ask new questions and to make new connections. "The big advantage is that, with insights from the past, we will be able to better understand the present and develop the city for the future," says Dieke. The Den Bosch Time Machine can thus be a source of inspiration for finding solutions for current issues.